Horse of the Year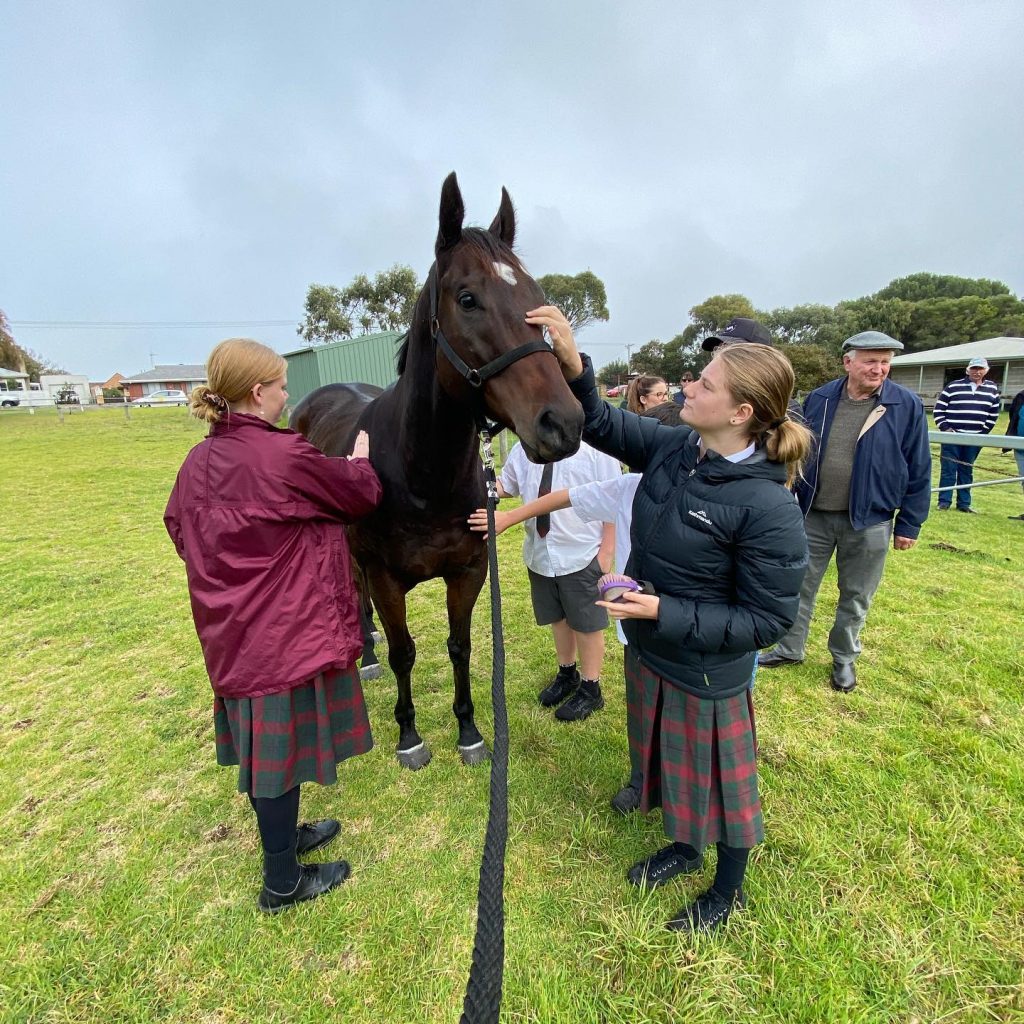 This year we have successfully retrained and rehomed more than 30 retired racehorses. Our aim was to rehome 1 per month until we settled into the new property, but we managed to raise the bar with our incredible team of staff and volunteers all pulling together to achieve great outcomes for these horses. Some have remained with us as therapy horses and some have gone on to the very best of homes with new owners.
Our horse of the year, however, is Lagerfeld.
Affectionately known as Lager, this handsome 7yr old gentleman was kindly gifted to us by Ciaron Maher Racing. Lisa had ridden Lager as a younger horse and knew even at that early stage that he would be an ideal therapy horse when he retired. He went on to win quite a few of his 30 race starts including in the city at Moonee Valley. After his last start at the Gold Coast in January he was ready to retire and we were quick to put our hands up to take him.
After a nice long spell for 3 months, Lager began to work with many of our clients in both ground and ridden sessions and he soon became a firm favourite.
With the expertise of our mental health practitioners, Lager has helped young people gain confidence, self esteem and a sense of achievement. He has also been able to help our clients develop a greater sense of awareness of how their minds and bodies work and how to exercise boundaries to keep themselves safe. He travelled all the way down to Warrnambool with dual Warrnambool Cup winner Hissing Sid to assist in programs with Standing Tall, a youth mentoring program run throughout schools in the Warrnambool region. For his first outing of this kind, he took it all in his stride and will continue to travel to some schools in 2021.
Not only has Lager helped our clients, but he has also been assisting our practitioners regain their riding confidence and horse connection. One of our mental health nurses , Jo, had taken an extensive break from riding and needed to dust off her boots! Lager supported her every step of the way and the pair spent a fabulous long weekend together trail riding around the high country earlier this month.
Starting to gain a bit of a celebrity name for himself, he has participated in many media campaigns for us this year and featured in an article written by his former trainer, Ciaron Maher in the Australian and Heard Sun. His previous owner often comes to visit him and feed him carrots.
Lager is now a permanent member of our therapy team and we are incredibly privileged to have him. He is one very special guy.