Racehorses can be expensive animals to care for, but at Racing Hearts we believe every retired racehorse deserves a healthy life and a caring home post racing.
We are passionate about assisting as many retired racehorses as possible to find amazing homes.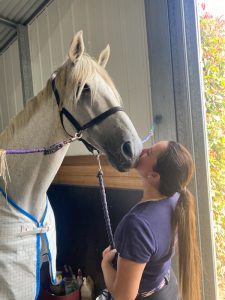 Cost of care:
$25 feed one horse for one day
$50 provides a halter and lead for one horse
$80 provides a hoof trim for one horse required every 6-8 weeks
$100 provides worming treatment for one horse for one year
$100 provides physio and chiro care for one horse. This is usually required 2-3 times per year
$120 provides dental care for one horse for one year
$120 provides one rug for one horse
$160 provides a set of shoes for one horse. This is required every 6-8 weeks.
$300 provides a full set of rugs for one horse.
What You Get
We will send you quarterly updates on our horses and their journey with us in our newsletter. You will also receive exclusive invites to our Balnarring Farm Open Days in Victoria, Australia. This is a chance to learn more about how we're helping to rehabilitate retired racehorses.
Every donation counts.
Sponsored a Retired Racehorse